Because of a story at Mail Online, I've just discovered a brand new world! It's an entirely different universe - one that has dogs which come in all colors and dogs that don't look like dogs. In this world, people actually hold contests and win prizes to see what bizarre things they can do to the dogs. Have a look:
Myra Macias transformed her standard poodle, Peach Cobbler, into a motorcycle with the theme "Poodle Rider." (via)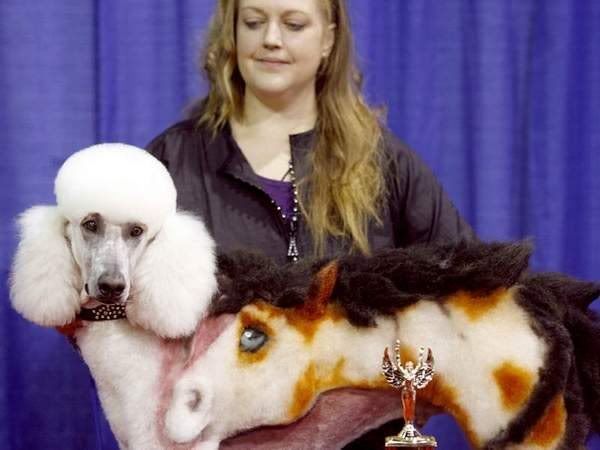 Katherine Ray sculpted a depiction of a horse into the side of her poodle. (via)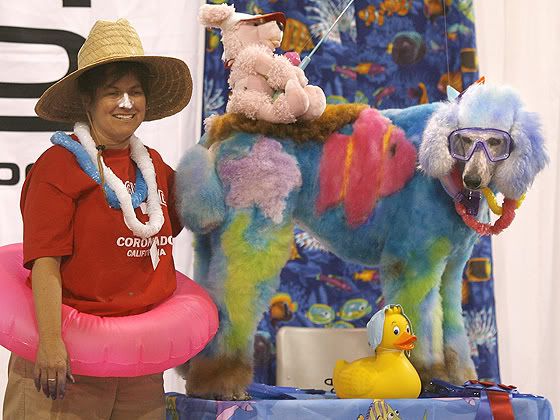 Christy Van Cleave turned her dog Jack into a "Poodles Under The Sea" theme. (via)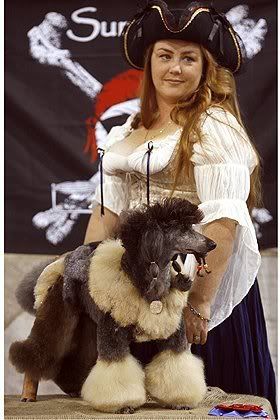 Deanise Stoops turned her dog Jada into the character Jack Sparrow including a peg leg, a beaded goatee, hat and more. Nice coordinating outfit, Deanise! (via)
Dawn Omboy has also turned a poodle into a pirate. I don't think Dawn's outfit is as good as Deanise's. At least she tried though. (gr8grmr)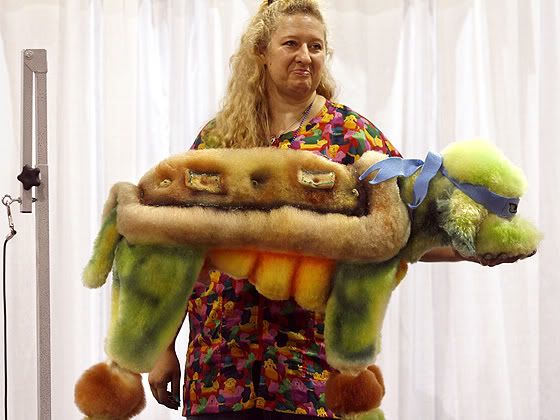 Sandy Hartness turned this poodle into a Ninja Turtle named Leonardoodle. Hey, Sandy, where's your costume? (via)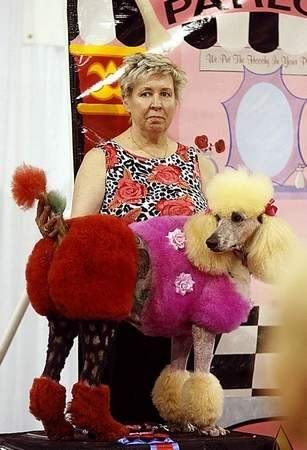 Carmon Baker and her dog Missy chose the theme of Hoochy Poochy Parlor. Next year Missy will select the theme and will turn Carmon into a white poodle. (via)
Sandy Hartness has disguised Cindy the poodle as a chicken. (via)
Then, poof, Sandy turned Cindy into a peacock! (via)
Here's Odin, another poodle, as a rare dragon dog. (via)
This must be poodle camouflage of some sort. (white dog) *** We've seen a lot of altered poodles so far, but they're not the only breed subjected to all these artistic efforts.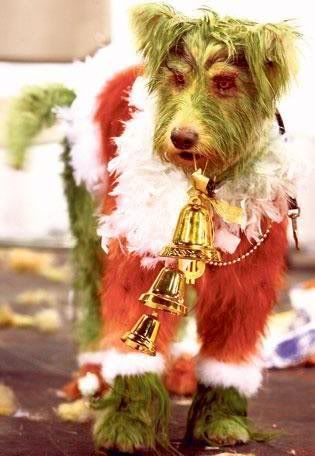 Sarah Reynolds turned her dog into the "Grinch Who Stole Christmas." (via)
Angela Kumpe has managed to turn her dog into a dragonfly. (via)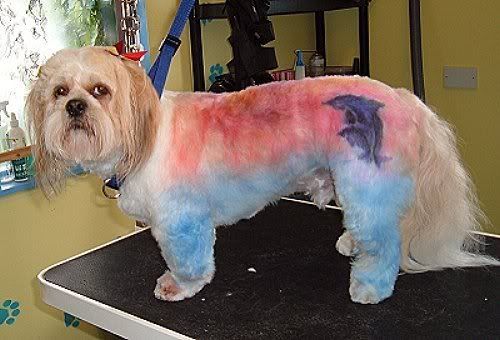 This is Bailey. He must be a Dolphins fan. (via)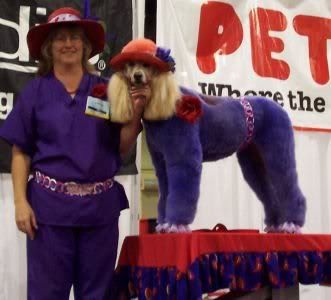 Here is Susan Tyner with Ralph. Are they twins? (via) *** Video: Creative grooming for dogs Some dog shows have "creative grooming" competitions, where groomers create unusual cuts for pooches. NBC's Brian Balthazar reports. TODAY's Maria Menounos talks with Dawn Omboy, a master groomer. Sources: oc register, Pantagraph.com, Groomer to Groomer, petgroomer.com, Detroit Free Press Oh no! Look what else these people are doing ...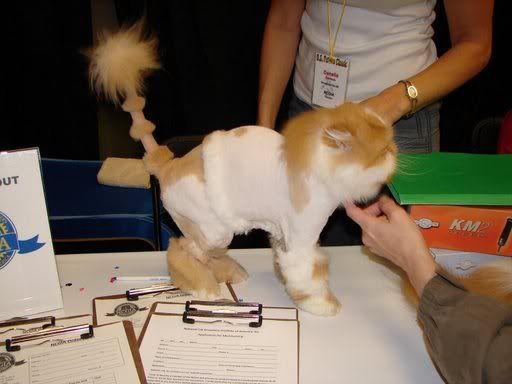 (via)