The California condor (Gymnogyps californianus) is the largest land bird in North America with a wingspan of 9 1/2 feet and weighing up to 22 pounds. Today, the California condor is regarded as one of the rarest birds in the world. In prehistoric times, condors ranged from Canada to Mexico, across the southern United States to Florida, and north on the east coast to New York. Between the mid-1880s and 1924, there were scattered reports of condors in Arizona. But by the late 1930s, all remaining condors were found only in California and by 1982, the total population had dwindled to just 22 birds and extinction loomed. The California condor was placed on the federal endangered species list in 1967. The U.S. Fish and Wildlife Service began a captive breeding program in 1980, but in the wild, condor numbers continued to decline until only nine birds remained in 1985.
A controversial decision was made to bring all remaining condors into captivity and the last wild bird was captured on April 19, 1987. All hope for recovery was now placed on the captive breeding program and the task was formidable. Captive bred condors were being released back into the wild in California beginning in January 1992. Today, condors fly free in California and Arizona/Utah. June 2008 California Condor Update The U.S. Fish & Wildlife service has recently come out with a California condor status report as of April 30, with the following numbers (likely higher by now since eggs hatch in May) World Total: 315 CA: 78 plus 6 chicks=84 Baja: 13 Arizona/Utah: 64 not counting chicks (of which we suspect 3 as of May 10, and TWO other possible eggs still to hatch!)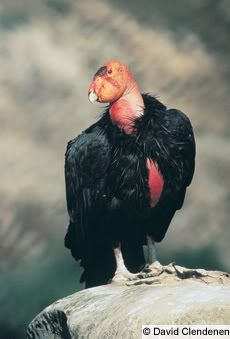 Some very unusual California Condor traits Condors do not have vocal cords so they force air through their body to make hissing and grunting noises. Condors defecate on their legs to reduce their core body temperature. This is known as Urohydrosis. Condors can soar and glide at up to 50 miles per hour and travel 100 miles or more per day. Condors eat an average of 2-3 lbs at a feeding. Adult condors show their emotion through skin color changes. Condors become sexually mature at about five or six years of age and mate for life. Condors lay a single egg normally every other year. The egg, about 5 inches in length and weighing around 10 ounces is deposited on bare ground. Condors do not build nests. Chicks are born with their eyes open. When scared, condors regurgitate (throw up) their stomach contents. Condors do not have talons like eagles or hawks; their nails are more like toenails.
The photo at left is of a condor chick hatched March, 2008. This chick is the 60th baby bird hatched at the San Diego Wild Animal Park since the Condor Recovery Program was implemented in 1982. The chick's mother was the first California condor to be conceived and hatched in captivity. (CNN story) Refrences: nps.gov, ventana, All About Birds Photo #1: ehoyer Photo #2: Grand Canyon National Park Photo #3: David Clendenen Photo #4: CNN