I've been unable to check emails for a couple of days, so I'm glad to have found some new items in my mailbox to share with my readers:
Shane, the community moderator, invites us to visit a new pet-oriented social networking site called WagNBrag. Participation in the site is free and offers members an opportunity to post photos and videos, host their own mini-blog, join and create special interest groups (such as breed specific, region specific, etc.), and participate in forums. WagNBrag looks interesting ... there are pet related videos, photos and many other interesting features.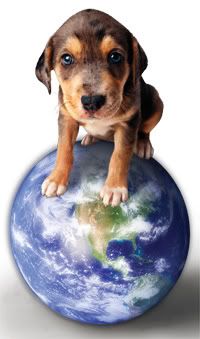 Jillian emailed me to announce that October is American Humane's Adopt-A-Dog month. Adopt-A-Dog Month is an effort by American Humane to support canine adoption from animal shelters while spreading the word about responsible pet care. American Humane is a 130-year-old organization dedicated to protecting both animals and children. This year's American Humane Adopt-A-Dog Month is being sponsored by Fetchdog.com, which offers dog people a place to find the highest-quality dog supplies and credible advice on their dog's health and wellness. Driven largely by the rising tide of home foreclosures, animal shelters across the country are overpopulated with furry friends. While no national statistics exist, shelters across the country say they are receiving dogs everyday from displaced homeowners. With more dogs than adopters, shelters are facing a tragic scenario: euthanizing dogs that would, in the past, be snatched up for adoption. In May, I posted about Smoky the WWII hero Yorkie. Bill Wynne wrote to tell me that a video about Smoky was featured during the Westminster Dog Show in February 2008. A copy of the video is posted at Yorkie Doodle Dandy, a blog about Smoky's continuing popularity.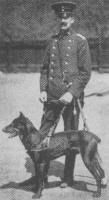 Shani, of Always Faithful, emailed me about a celebration to be held October 11 through October 18 in Kansas City: The Doberman Pinscher Club of America (DPCA) will host more than 400 Doberman Pinschers and owners, enthusiasts and dog handlers from around the world for its 83rd Annual National Convention and Specialty Dog Show. What's really special about this year's Doberman Convention is that it is celebrating 100 years of the Doberman in the U.S. On Thursday, October 16 (7:00 PM) ~ "The Heroes:" Ceremony commemorating the 100 Year anniversary of the Doberman Pinscher will include a special tribute and salute to the 11 surviving U.S. Marine War Dog Handlers of World War II (majority of these dogs were Dobermans) to include a marching band and seven men and women who are handlers of service dogs today. The DPCA, American Kennel Club (AKC) will also sign a contract with the Department of Homeland Security, launching a national public/private effort to secure American working dogs for protecting America. If you're in the Kansas City area or a Doberman lover, this might be a fun event to visit.