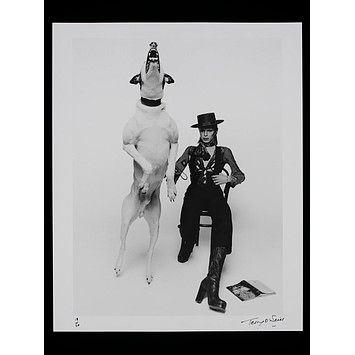 David Bowie, promotional photograph for 'Diamond Dogs'
Photographer: Terry O'Neill, 1974
This image was produced as a potential cover for Bowie's 'Diamond Dogs' album in 1974, but was not used.
This is the cover which was used:
Designed by
Guy Peellaert
this cover met with controversy. The cover art features Bowie as a striking half-man, half-dog grotesque. It was controversial as the full painting clearly showed the hybrid's genitalia. Very few copies of this original cover made their way into circulation at the time of the album's release.
According to the record-collector publication Goldmine price guides, these albums have been among the most expensive record collectibles of all time, as high as thousands of US dollars for a single copy. The genitalia was quickly airbrushed out for the 1974 LP's gatefold sleeve, although the original artwork (and another rejected cover featuring Bowie in a cordobes hat holding onto a ravenous dog) was included in subsequent Rykodisc/EMI re-issues.
Photo 1:
Source
Photo 2:
Source