HBO's Luck, a drama about the horse racing circuit, has been cancelled in its first season after several horses were hurt and subsequently euthanized on set.

Show business remains a dangerous place for animal actors. While poor working and living conditions are the most common causes of animal death, an unfortunate few have met their end through brutal police action, self-asphyxiation, and even pre-meditated acts of murder.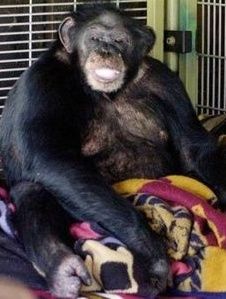 The most recently infamous former celebrity animal is probably Travis, who had it all, as far as the lives of chimps go, having starred in commercials for Coca Cola and Old Navy and made appearances on
Maury
and
The Man Show
.
On February 16, 2009, emergency operators received a 9-1-1 call from Travis's owner Sandra Herold. Travis had attacked and horribly disfigured a friend of Herold's, 55-year-old Charla Nash. When police arrived on the scene, Travis approached one of the squad cars and attempted to open the driver-side door, at which point an officer fatally shot him several times.
Continue reading
"Before 'Luck,' 9 Famous Animals Who Met Tragic Deaths"
at the Atlantic.