Neatorama's post about London's white chipmunk led us on a hunt for white animals around the world. Migaloo, the baby whale, was found off Heron Island, on Queensland, Australia's central coast. He is believed to be the only completely white humpback whale in the world. In Bangkok, at the Dusit Zoo, a rare baby albino common barking deer was born April 7, 2007. An albino mountain goat was photographed in Valle D'Aosta in Italy on June 24, 2007 . This is the only white capra ibex ever documented, the only one ever seen. Forest rangers have named him "Snowflake." In Wiarton, Ontario, Wiarton Willie, Canada's famous white groundhog, emerges from his lair every February 2nd to check his shadow and tell us whether we'll have a long winter. Two African pygmy hedgehogs in Cumbria, England, produced an baby albino hedgehog. Only one in ten thousand hedgehogs are born totally white with red eyes. Dinah, the albino alligator, can be found at the Knoxville Zoo in Tennessee. Dinah is one of only 30 known true albino American alligators out of five million worldwide. Royal Gorge Bridge and Park, in Canon City, Colorado is the home to a whole family of rare white buffalo. This is a healthy recessive gene unlike the albino recessive gene which results in pink eyes, horns and hooves. These white buffalo have dark eyes, gray horns and hoofs. The sire for the calves, Chief Silver Bullet, a 3-year-old white buffalo, is a proud father who participated in welcoming the newborns by helping to clean them off and protect them.
A rare, white parrot was born to a Tahlequah, Oklahoma, bird breeder. The number of breeders across the world who can say they have helped hatch a white Quaker parrot is extremely low. A dozen may be a big overestimation. Had the bird been red-eyed, it would have simply been an albino Quaker – not really a big deal. That, however, was not the case. The bird now lives in Louisiana. In 2006, an albino hummingbird was photographed in North, South Carolina. Only about a dozen albino or leucistic Ruby-throated Hummingbirds have been banded, and none of them are known to have returned in a following year after migrating to Mexico or Central America for the winter. County Durham in the North East of England has Tic, Tac and Toe, white ravens which were found starving in a churchyard. An albino African penguin chick, hatched at Bristol Zoo in England is proclaimed to be "one-in-a-million." There have been only two recorded sightings of albino penguins in the wild. Four white Bengal tigers were born in April, 2007 at the Guadalajara Zoo in Mexico. It is the sixth litter of white tigers born at the facility -- all sired by the same father, named Nino. A white tiger born at this zoo is the one that attacked Las Vegas entertainer Roy Horn of the Siegfried and Roy act in 2003. Cute Baby white tiger. There are many reports of white lions being born in zoos. There aren't many things more adorable than white lion cubs. But white lions do not survive well in the wild and none have been seen since 1975 when they were documented in a pride found on the Timbavati Game Reserve in South Africa. A 53-pound albino catfish caught by a fisherman out of the Missouri River in July 2007, is now on display at the Tennessee Aquarium in Chattanooga. In Valbrembo, Italy, on March 28, 2007, a baby albino wallaby named Pino, was born at "Le Cornelle" zoo.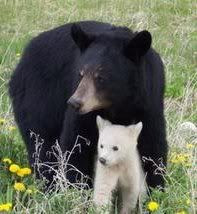 On Princess Royal Island and Gribbell Island near the mid coast of British Columbia, a Kermode or spirit bear, a rare white-coated black bear, occurs at about 10-20% frequency. They are occasionally also found in Wisconsin, Alaska and Minnesota. It is thought that the presence of a single recessive gene in these creatures is responsible for the white coat that as many as one in ten of these bears is born with and retain throughout their lives. The Minnesota Division of Natural Resources passed a permanent regulation protecting all white-phased black bears from hunting. Exeter, Ontario Canada has white squirrels which they are very proud of. So proud that Peter Snell has produced a song and video about them: "White Wonder." In Brevard, North Carolina, about 25% of the town's squirrels are white squirrels. The town "goes nuts" each year with a White Squirrel Festival. Olney, Illinois, loves their white squirrels so much that local laws give the squirrels right-of-way on every street; residents are fined if they try leave town with one. Local police patches bear an outline of a bushy-tailed albino squirrel. Marionville, Missouri, proudly proclaims itself the Home of the White Squirrel, with emphasis on "the." "Olney had a celebration this past year: 100 years of the white squirrel." a spokesman said. "Well, we're long before that. We claim that they got them from here."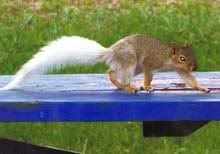 On the hunt for white squirrels, we found something really different in Oglesby, Illinois and Granville, Illinois. These towns are the home to white-tailed squirrels. Partly-white squirrels are not partly albino, because there is no such thing. But like albinism, white patches of fur on dark animals are a genetic mutation. In 2006, a white moose was spotted in forests of Østfold, Norway. Norwegian hunters were gunning for it, so it might not be there any longer. German hunters in the Erzgebirge Mountains in eastern Germany were going after a snow-white deer with pink eyes, so that one might be gone as well. Even more sadly, Snowflake, the world's only albino gorilla died of skin cancer at the Barcelona Zoo on November 24, 2003. Snowflake had a good life though, in his 37 years at the Barcelona zoo, he fathered 22 offspring with three different females. None is albino.