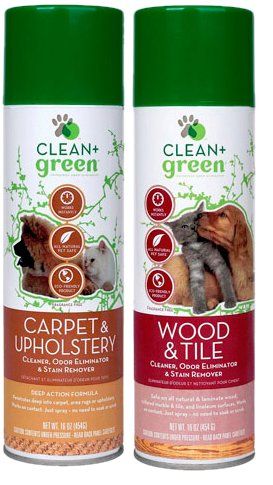 First, a tip - which I'm ashamed to admit we learned too late in my house - do NOT put your cat's litter box on a carpeted surface. I can almost guarantee that the cat will eventually treat the carpet
around
the litter box as
part
of the litter box.
Even though we moved the litter box to a tiled floor, our kitties occasionally returned to use the spot where the litter box used to be as an alternative bathroom.
I was delighted to receive an e-mail from CLEAN+GREEN with an offer to sample their products in celebration of Earth Month which is in April.
I received the Carpet & Upholstery product and the Wood & Tile product. Clean+Green labels state that their product "delivers instant results in a safe, non-toxic, eco-friendly, hypoallergenic and fragrance free solution – safe for pets, people and the planet!"
I couldn't wait to tackle that stained carpet where the litter box used to be, but how simple - no soaking, no scrubbing, no rinsing! I just sprayed the yellowed stains and let the area dry. The first application reduced the stain by about 80%. The next day, I sprayed again, and by afternoon, the stain was completely gone.
I applied Clean+Green Carpet & Upholstery Cleaner at the end of February and waited until now to write this review because I wanted to see if the "odor removal" claim really worked. The test would be to see if our cats returned to use the area again as an alternative to the litter box. I'm pleased to say that they did not. The stain is gone! The smell is gone! This is a great product!
I have also tried the Wood & Tile cleaner on a tiled floor under the litter box where the grout has become discolored. Just spray - and the grout is noticeably cleaner looking.
Using a patented formula, Clean+Green encapsulates and eliminates stain and odor on contact - even skunk odor! - by naturally biodegrading the stain or odor source. The all-natural formula delivers instant results in a safe, non-toxic, eco-friendly solution. Ingredients include cane sugar derivatives, a proprietary blend of botanical extracts, hydrated cellulose, purified water, and a natural aerosol propellant (nitrogen). For more information, please visit
www.odorandstainremover.com
.
You can also visit Clean+Green on Facebook :
https://www.facebook.com/CleanandGreen
and Twitter :
http://twitter.com/#!/cleanandgreen
CONTEST --- WIN A FREE CLEAN+GREEN PRODUCT!
The lovely folks at Clean+Green will send 3 lucky winners (of my choice) a Clean+Green product.
All you have to do is:
Just comment on this post - tell us what your "pet stain or odor problem" is and which Clean+Green product you would like to receive. (Products are listed
here
.)
Winners will be chosen & announced on April 30, at the end of Earth Month.