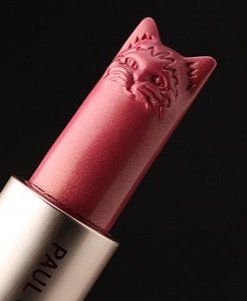 at Urban Outfitters for $25.00
"Each delectably creamy lipstick contains PAUL & JOE's "SECRET D'OR," a blend of several varieties of champagne gold frost, each possessing a different overtone and a sparkle that varies subtly depending on the angle from which you view it. Together, these proprietary ingredients provide a gorgeous color with a sheer, highly translucent sparkle! And, as it deserves a second mention, there's a kitten carved into the tip of each lipstick!"
I don't get it ... My three cats wouldn't wear this, but they're all boys. Would a girl cat wear this?